Navigated Endoport in the Purely Endoscopic Microsurgery of Intraventricular and Other Deep-Seated Brain Lesions: A Case Report
Keywords:
Neuronavigation, Endoport, Neuroendoscopy, Microsurgery, Deep Brain Lesion
Abstract
Objective. Brain parenchyma retraction is often necessary to reach various deep brain lesions during surgery. In order to minimise the incidence of the brain retraction injury, an endoport system may be employed. We present a report of a navigated endoport system in conjunction with an purely endoscopic microsurgery that was used in a patient with a deep-seated subependymoma.
Case Report. A navigated endoport with purely endoscopic microsurgery were used in a patient with a tumour
located in the frontal horn of the left lateral ventricle. The endoport channel was made of a polyvinyl sheet that was cut into a 7 cm square, rolled into a tubular structure that was wrapped around the neuronavigational probe, and inserted in the access trajectory to the tumour. The endoport tube was then expanded with a balloon to a diameter of 7 mm and a surgical corridor was thus formed. During the purely endoscopic microsurgical lesionectomy, the tumour was completely removed from the frontal horn. The foramen of Monro was released and the septum pellucidum was perforated for better cerebrospinal fluid circulation. Histopathological examination confirmed the tumour as subependymoma. The recovery of the patient was unremarkable.
Conclusion. The expandable endoport system supplemented with neuronavigation is a safe and efficient option for deep-seated tumour removal. The tubular shape of the retractor enables standard microsurgical techniques through minimally invasive approaches and offers an excellent visualization of the underlying lesion.
Downloads
Download data is not yet available.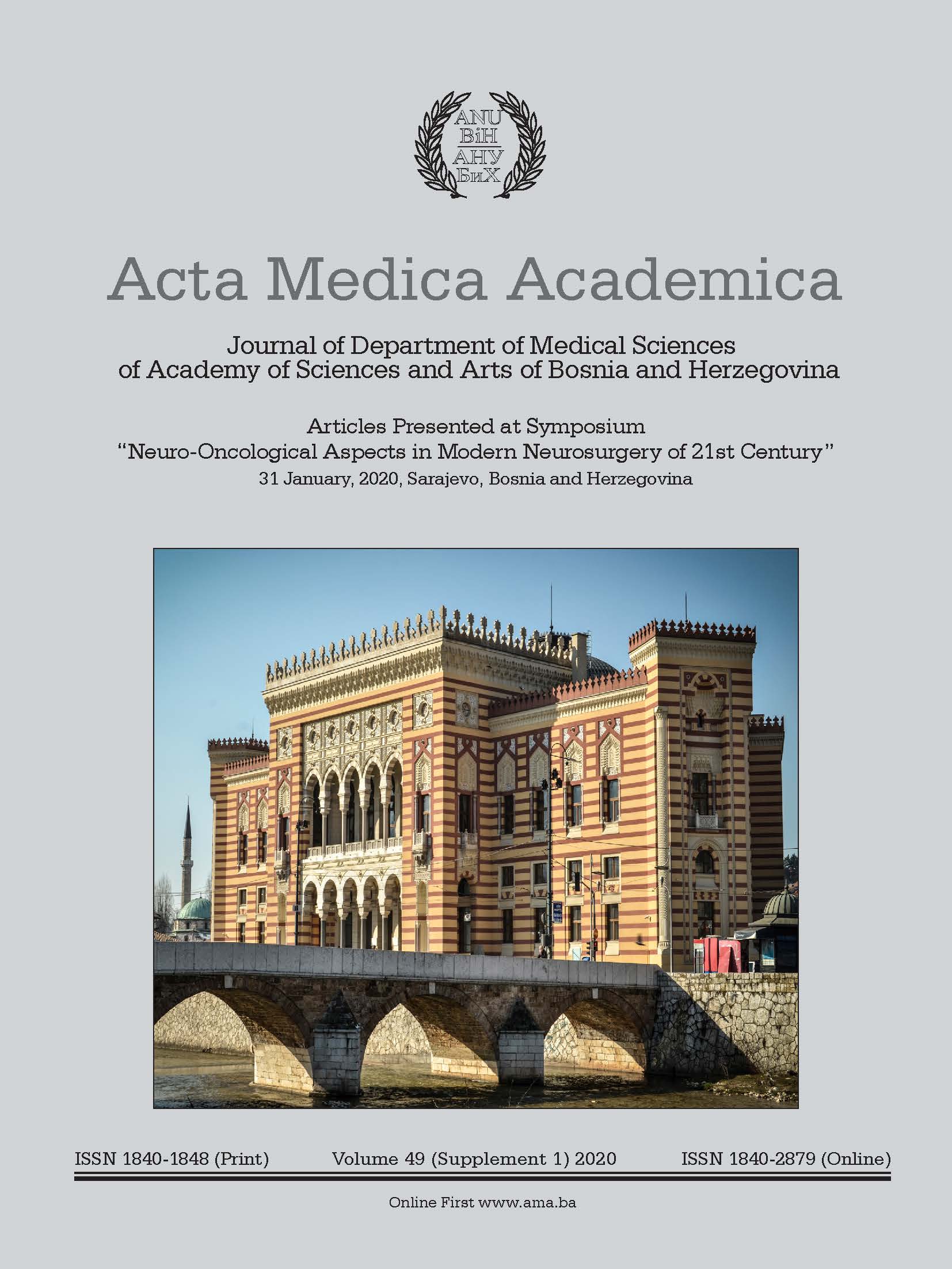 Downloads
How to Cite
Bosnjak, R., Antolin, A., Jeglic, A., Felbabic, T., & Velnar, T. (2021). Navigated Endoport in the Purely Endoscopic Microsurgery of Intraventricular and Other Deep-Seated Brain Lesions: A Case Report. Acta Medica Academica, 49(1, 2, 3), 70–77. https://doi.org/10.5644/ama2006-124.309
Section
Case Presentation