How to improve teaching in family medicine
Keywords:
Family medicine, Education, Teaching
Abstract
The family physician has a specific task and responsibility as the firstcontact physician. Therefore his/her education needs to be highly specific,oriented towards independent work in real time and evidencebasedmedical principles. The most important role in educating afamily physician belongs to physician practitioners, individuals whowork in clinics and need (as much as possible) to transfer knowledge,skills and experiences from their own specific conditions and a widevariety of work methods. Therefore the experience and suggestions ofteachers in practical training are considered to be the most significantcontribution to improving the quality of teaching. The most importantsuggestions pertain to reducing the size of seminar groups, includingfamily medicine courses in the fourth and fifth year of studies,and increasing the possibilities for students to do independent work,with supervision by their mentors. For good preparation of futurephysicians for independent work it is necessary for family medicinedepartments to be able to organize practical training and seminars inas many courses as possible, with as many classes as possible. A goodprofessional basis in terms of selected teachers and practical trainingteachers is required to make this possible.
Downloads
Download data is not yet available.
References
Jureša V, Jurković D, Katić M, Gmajnić R, Diminić Lisica I, et al. Model unaprjeđenja preventivne zdravstvene zaštite koju pruža hrvatska djelatnost obiteljske medicine. U: Šogorić S, Štimac D, editors. Knjiga sežetaka. Zagreb: Hrvatsko društvo za javno zdravstvo; 2010. p. 181–191.
Katić M, Rumboldt M, Materljan E, Gmajnić R. Analiza stanja u obiteljskoj medicini u Hrvatskoj i nužnost promjena. Medix: specijalizirani medicinski dvomjesečnik. 2009;15(80/81);51–6.
Katić M, Budak A, Ivanković D, Mastilica M, Lazić D, Babić-Banaszak A, et al. Patients' views on the professional behaviour of family physicians. Fam Pract. 2001;18(1):42-7.
Gmajnić R, Pribić S, Petrić, D. Prijedlog regionalne organizacije primarne zdravstvene zaštite. Medicina familiaris Croatica. 2008;16; 32-6.
Gmajnić R, Ebling Z. Primarna zdravstvena zaštita u Osijeku - razvoj i postignuća. Medicinski vjesnik. 2009;41(3-4);57–60.
Marusic M. War and medical education in Croatia. Acad Med. 1994;69(2):111–3.
Puntarić D, Brkić K. Formation and organization of military medical service at the east Slavonia front in the 1991/1992 war in Croatia. Mil Med. 1995;160(8):412–6.
Markeljević J, Lacković Z. The case of Croatian hospitals: Is this the end of humanitarian rules? Medicine and War. 1994;10(1);50–62.
Ebling Z, Santo T, Mandić N, Glavina K, Serić V, Laufer D. Osijek Health Center during the 1991-1992 war in Croatia. Mil Med. 2000;165(12):929-34.
Rogulj ZM, Baloevic E, Dogas Z, Kardum G, Hren D, Marusic A, et al. Family medicine practice and research: survey of physicians' attitudes towards scientific research in a post-communist transition country. Wien Klin Wochenschr. 2007;119:164–9.
Hren D, Sambunjak D, Ivanis A, Marusic M, Marusic A. Perceptions of authorship criteria: effects of student instruction and scientific experience. J Med Ethics. 2007;33:428–32.
Marusic A, Marusic M. Teaching students how to read and write science: a mandatory course on scientific research and communication in medicine. Acad Med. 2003;78:1235–9.
Simunovic VJ, Petkovic M, Miscia S, Petrovic M, Stallaerts R, Busselmaier W, et al. Short history of a just mentorship and support. Croat Med J. 2008;49:18–22.
Zerem E, Delibegovic S. Prof. Marusic placed his editorial board at the disposal of the postgraduate students of Tuzla University School of Medicine. Croat Med J. 2008;49:101.
Gluncic V, Pulanic D, Prka M, Marusic A, Marusic M. Curricular and extracurricular activities of medical students during war, Zagreb University School of Medicine, 1991-1995. Acad Med.
;76:82–7.
Pribić S, Krolo V, Ćosić, I. Gmajnić R, Lukić, M. Results: of education of primary health care physicians for the management of the private care offices in Croatia. 16th Wonca Europe Conference "Family Medicine into the Future – Blending Health and Cultures", Malaga, Španjolska, 2010; p. 253-4.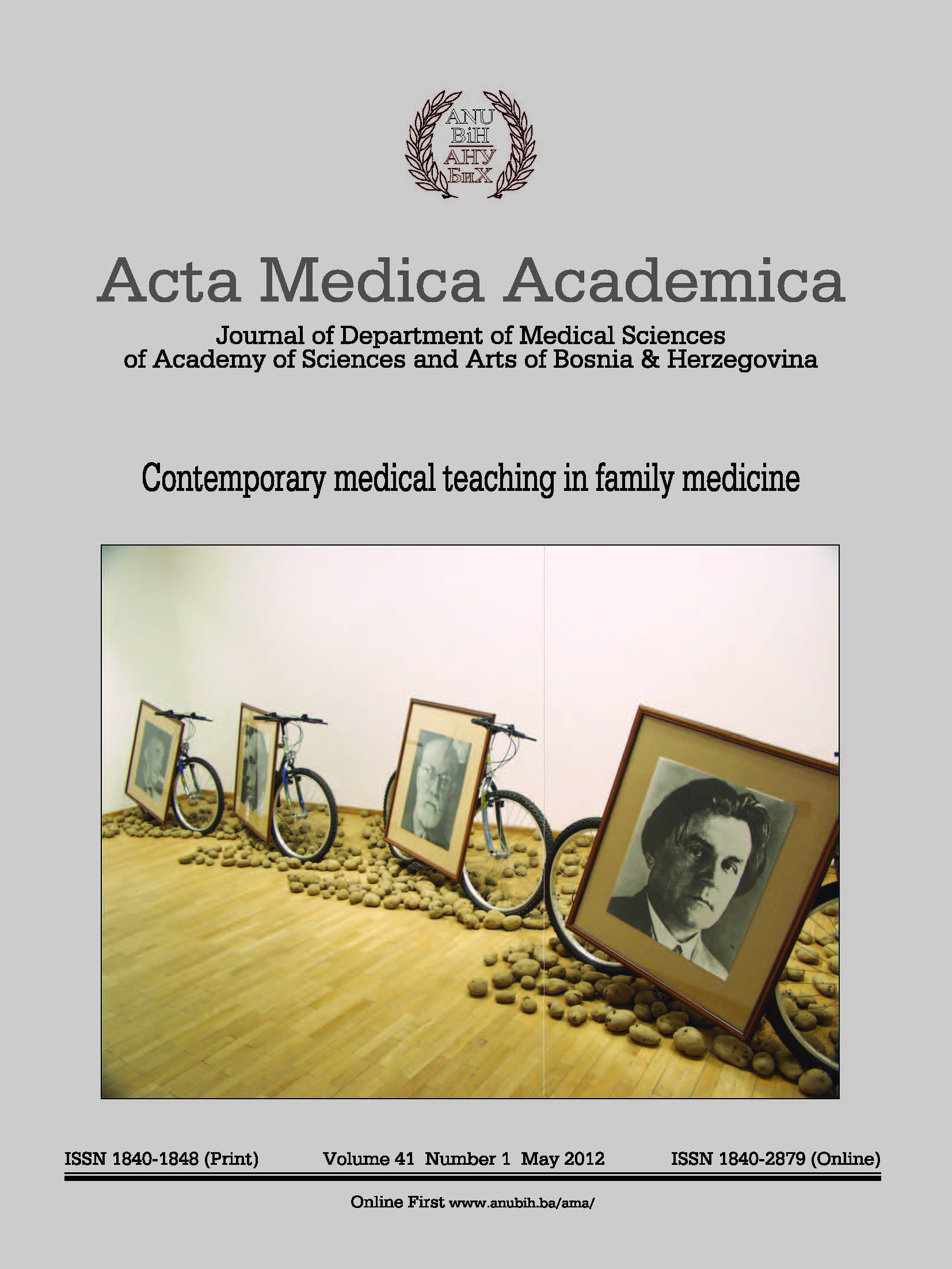 Downloads
How to Cite
Pribić, S., & Gmajnić, R. (2012). How to improve teaching in family medicine. Acta Medica Academica, 41(1), 75–79. Retrieved from https://www.ama.ba/index.php/ama/article/view/137
Section
New Models in Family Medicine Education