Characterization and Clinical Significance of EIF1AX Mutations and Co-Mutations
Keywords:
EIF1AX, Thyroid Nodule, Cytopathology, Next-Generation Sequencing
Abstract
Objective. Mutations in the EIF1AX gene have been recently detected in a small percentage of benign and malignant thyroid lesions. We sought to investigate the prevalence and clinical significance of EIF1AX mutations and co-mutations in cytologically indeterminate thyroid nodules at our institution.
Materials and Methods. A 5-year retrospective analysis was performed on thyroid nodules with a cytologic diagnosis of Bethesda category III or IV, which had undergone testing by our in-house next generation sequencing panel. Surgically resected nodules with EIF1AX mutations were identified, and mutation type and presence of co-mutations were correlated with histopathologic diagnosis.
Results. 41/904 (4.5%) cases overall and 26/229 (11.4%) surgically resected nodules harbored an EIF1AX mutation. The most common histologic diagnoses were follicular thyroid carcinoma and follicular variant of papillary thyroid carcinoma.  11/26 (42.3%) of nodules had isolated EIF1AX mutation. Co- mutations were found in RAS (12/26; 46.2%), TERT (5/26; 19.2%) and TP53 (2/26; 7.7%). EIF1AX mutation alone conferred a 36.4% risk of malignancy (ROM) and 54.5% ROM or noninvasive follicular thyroid neoplasm with papillary-like nuclear features (NIFTP), while the ROM was significantly higher in nodules with concurrent RAS (71.4%), TERT, TP53 and RAS+TERT (100%) mutations.
Conclusion. EIF1AX mutations occur in benign and malignant follicular thyroid neoplasms. In our cohort, the majority of mutations occurred at the splice acceptor site between exons 5 and 6. Importantly, the coexistence of EIF1AX mutations with other driver pathogenic mutations in RAS, TERT and TP53 conferred a 100% ROM or NIFTP, indicating that such nodules require surgical removal.
Downloads
Download data is not yet available.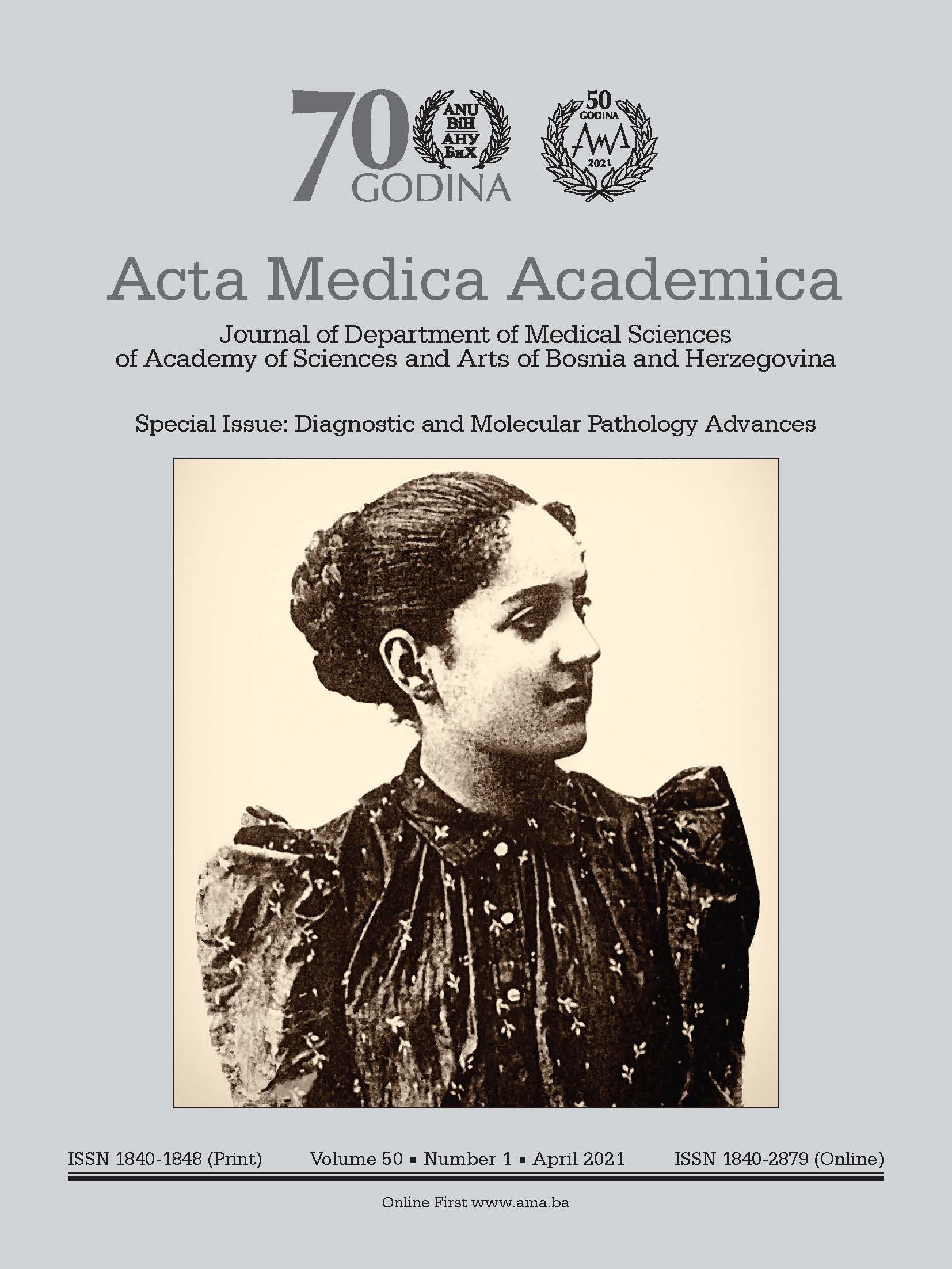 Downloads
How to Cite
Gargano, S. M., Badjatia, N., Nikolaus, Y., Peiper, S. C., & Wang, Z.-X. (2021). Characterization and Clinical Significance of EIF1AX Mutations and Co-Mutations. Acta Medica Academica, 50(1), 4–12. https://doi.org/10.5644/ama2006-124.322