Immunohistochemical Staining for Lymphatic and Blood Vessels in Normal Tissues: Comparison between Routinely Paraffin-Embedded Tissues and Frozen Sections
Keywords:
Blood Vessels, Lymphatic Vessels, Immunohistochemistry, Factor-8, LYVE-1
Abstract
Objective. In the current study, we compared the distribution of blood and lymphatic vessels from paraffin-embedded tissues with those of frozen tissues of normal human and rhesus monkey.
Materials and Methods. We performed immunocytochemical staining for lymphatic and blood vessels using LYVE-1 for lymphatic vessels and von Willebrand factor (F-8) for blood ves- sels.
Results. Normal tissues included spleen, lymph node, liver, pancreas, salivary gland, colon, diaphragm, heart, lung, thyroid, adrenal gland, kidney, ovary, endometrium, and prostate. Splenic sinusoids were stained for LYVE-1 and F-8 in the frozen sections, supporting that the sinusoid is a lymphoreticular system and blood vessel in structure and function. In frozen sections, the lymphatic sinusoids were consistently positive for LYVE-1, while hepatic sinusoids were positive for LYVE-1, but not for F-8. Thus, lymphatic and blood vessels were more readily detected in frozen tissue sections than in the paraffin-embedded sections. In the endometrium, lymphatic vessels were not diffusely immunostained in paraffin-embedded sections. However, frozen sections detected cyclic changes of lymphatic vessels, growing from basalis to functionalis in the menstrual cycle. Lymphatic vessels were immunostained in many organs using frozen sections. Small pulmonary blood vessels were not immunostained by F-8 in the periphery of the bronchial vessel tree most likely these smallest blood vessels were not immunostained due to less F-8 attached to their endothelia. Conclusion. The present findings illustrate the differences in the immunostaining of blood vessels in sections obtained from paraffin-embedded tissues and those from frozen tissue. These new findings may be relevant for the basic histology and histopathology of lymphatic and blood vessels.
Downloads
Download data is not yet available.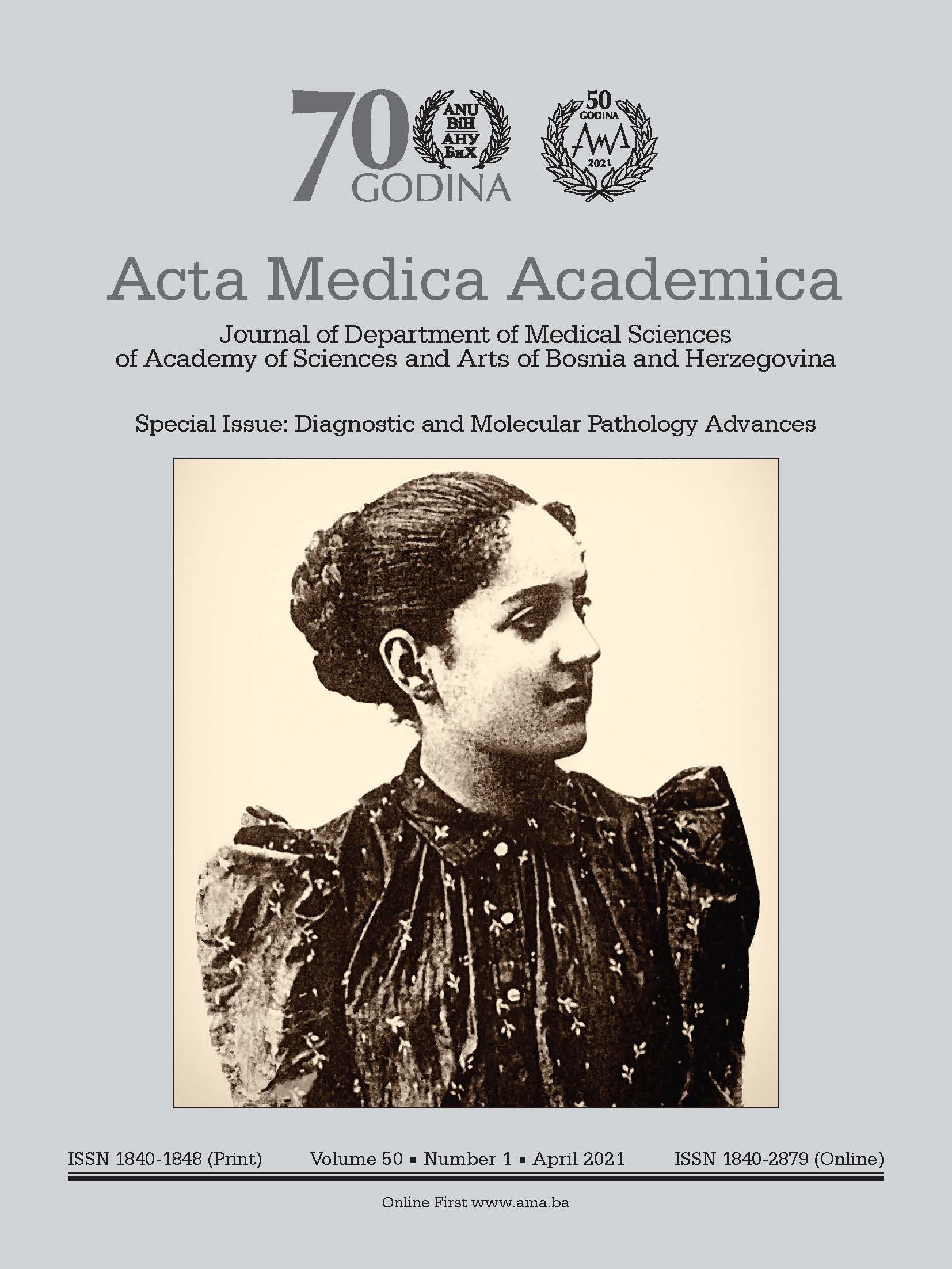 Downloads
How to Cite
Tomita, T. (2021). Immunohistochemical Staining for Lymphatic and Blood Vessels in Normal Tissues: Comparison between Routinely Paraffin-Embedded Tissues and Frozen Sections. Acta Medica Academica, 50(1), 13–28. https://doi.org/10.5644/ama2006-124.323