Students' letters to patients as a part of education in family medicine
Keywords:
Letter to the patient, Family practice, Communication, Doctor patient relationship
Abstract
Family medicine fosters holistic approach to patient-centered practice.Current medical curriculum in Croatia does not have well-structuredcourses or tools to prepare medicals students for successful communicationwith the patient and for building lasting and beneficial doctor-patient relationship. We explored the value of students' practicein writing letters to patients about their illness as a way of buildingpersonal and compassionate relationship with patients. Sixth year studentsat the School of Medicine in Split wrote letters to the patientsfrom consultations under the supervision of the supervisor in a familymedicine practice. Structured teaching of communication with thepatient brings family medicine back to what has actually always beenits main part – communication and doctor-patient relationship. Ourfuture aim is to develop students' letters to patients as a new tool inthe family medicine course examination. Moreover, we will investigatehow they can be used in everyday practice of family medicine.
Downloads
Download data is not yet available.
References
Kaeufer K, Scharmer CO, Versteegen U. Breathing life into a dying system. Reflections. The SoL Journal. 2003;5:1-10.
Gillies J, Mercer SW, Lyon A, Scott M, Watt GCM. Distilling the essence of general practice: a learning journey in progress. Br J Gen Pract. 2009;59:167-76.
Ožvačić Adžić Z, Katić M, Kern J, Lazić Đ, Cerovečki Nekić V, Soldo D. Patient, physician, and practice characteristics related to patient enablement in general practice in Croatia: Cross-sectional survey study. Croat Med J. 2008;49:813-23.
Egnew TR, Mauksch LB, Greer T, Farber SJ. Integrating communication training into a required family medicine clerkship. Acad Med. 2004;79:737-43.
Duffy FD, Gordon GH, Whelan G, Cole-Kelly K, Frankel R, Buffone N, et.al. Assessing competence in communication and interpersonal skills: the Kalamazoo II report. Acad Med. 2004;79:495-507.
Teutsch C. Patient-doctor communication. Med Clin North Am. 2003;87:1115-45.
Dolan B, Goren N, Perlis C. Epistolary medicine. Lancet. 2009;374:1588-9.
Freed PE, McLaughlin DE, SmithBattle L, Leander S, Westhus N. Therapeutic letters in undergraduate nursing education: ideas for clinical nurse educators. Nurse Educ Today. 2010;30:470-5.
Roberts NJ, Partridge MR. How useful are post consultation letters to patients? BMC Med. 2006:4:2.
Christner JG, Stansfield RB, Schiller JH, Madenci A, Keefer PM, Pituch K. Use of simulated electronic mail (e-mail) to assess medical student knowledge, professionalism and communication skills. Acad Med. 2010;85:S1-4.
Barnhart A, Lausen H, Smith T, Loop L. Electronic health communication: an educational application for this principle of the patient-centered medical home. Fam Med. 2010;42:322-6.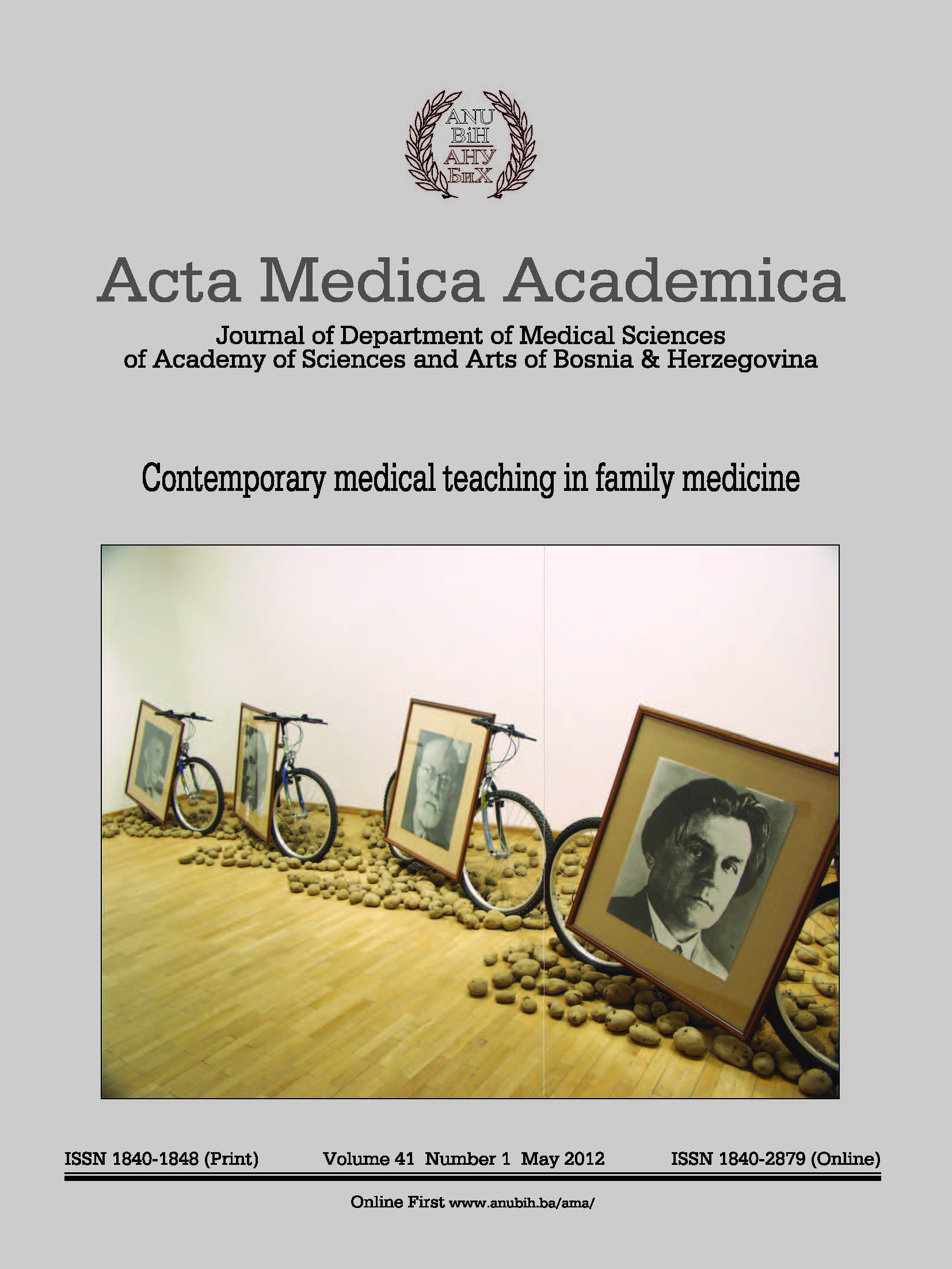 Downloads
How to Cite
Mrduljaš-Đujić, N., Pavličević, I., Marušić, A., & Marušić, M. (2012). Students' letters to patients as a part of education in family medicine. Acta Medica Academica, 41(1), 52–58. Retrieved from https://www.ama.ba/index.php/ama/article/view/133
Section
New Models in Family Medicine Education