Primary jugular foramen meningioma with unusual extensive bone destruction: case report and review of literature
Keywords:
Jugular foramen, Meningioma, Glomus jugulare tumor, Bone destruction
Abstract
Jugular foramen meningiomas are exceedingly rare tumors ofthe fossa jugularis. These meningiomas are characterized byan invasive growth pattern with extensive skull base infiltrationin all directions and by the mixed permeative-scleroticappearance of the bone margins of the jugular foramen. Wereport an unusual case of a primary jugular foramen meningiomain a 30-year-old woman. The unenhanced highresolutionCT of the temporal bones revealed extensive bonedestruction around the left jugular foramen as well as bonedestruction of the basilar part of the left occipital bone withoutsclerosis. These findings are unusual for meningiomasand correspond more to glomus jugulare tumors. In the literature,we did not find a case similar to ours. Conclusion.MRI and CT imaging provide accurate distinction betweenmeningioma and glomus tumors or schwannomas in mostcases. From high-resolution CT scans, in the case where apermeative-destructive pattern is dominant, and with the absenceof hyperostosis and bone thickening around the jugularforamen, the differential diagnosis between jugular foramenmeningiomas and other tumors, especially glomus jugularetumors, is difficult. In that case the correct diagnosis shouldbe based on the MRI findings.
Downloads
Download data is not yet available.
References
Vogl TJ, Bisdas S. Differential Diagnosis of Jugular Foramen Lesions. Skull Base. 2009;19(1):3-16.
Macdonald AJ, Salzman KL, Harnsberger HR, Gilbert E, Shelton C. Primary jugular foramen meningioma: imaging appearance and differentiating features. AJR Am J Roentgenol. 2004;182:373-7.
Arnautovic K, Al-Mefty O. Primary meningiomas of the jugular fossa. J Neurosurg. 2002;97:12-20.
Molony T, Brackmann D, Lo W. Meningiomas of the jugular foramen. Otolaryngol Head Neck Surg. 1992;106:128-36.
Nager G, Heroy J, Hoeplinger M. Meningiomas invading the temporal bone with extension to the neck. Am J Otolaryngol. 1983;4:297-324.
Tekkök IH, Özcan OE, Turan E, Onol B. Jugular foramen meningioma. Report of a case and review of the literature. J Neurosurg Sci. 1997;41:283-92.
Gilbert ME, Shelton C, McDonald A, Salzman KL, Harnsberger HR, Sharma PK, et al. Meningioma of the jugular foramen: glomus jugulare mimic and surgical challenge. Laryngoscope.
;114:25-32.
Sasaki T, Kawahara N. Jugular Foramen Meningiomas I. In: Lee JH, editor. Meningiomas-Diagnosis, Treatment and Outcome, London: Springer-Verlag; 2008. p. 515-20.
Sanna M, Flanagan S, DeDonato G, Bacciu A, Falcioni M. Jugular Foramen Meningiomas II. In: Lee JH, editor. Meningiomas-Diagnosis, Treatment and Outcome, London: Springer-Verlag; 2008. p. 521-7.
Roberti F, Sekhar LN, Kalavakonda C, Wright DC. Posterior fossa meningiomas: surgical experience in 161 cases. Surg Neurol. 2001;56(1):8-20.
Rutt AL, Chen X, Sataloff RT. Jugular fossa meningioma:
presentation and treatment options. Ear Nose Throat J. 2009;88(10):1169-72.
Chen ZC, Wang CP, Hsiao JK, Ko JY, Tseng HM, Yao YT. Angiomatous type of jugular foramen meningioma with neck extension: differential diagnosis from paraganglioma and schwannoma. Head Neck. 2007;29(8):793-8.
Weber AL, McKenna MJ. Radiologic evaluation of the jugular foramen. Anatomy, vascular variants, anomalies, and tumors. Neuroimaging Clin N Am. 1994;4:579-98.
Shimono T, Akai F, Yamamoto A, Kanagaki M, Fushimi Y, Maeda M, et al. Different signal intensities between intra- and extracranial components in jugular foramen meningioma: an enigma. AJNR Am J Neuroradiol. 2005;26:1122-7.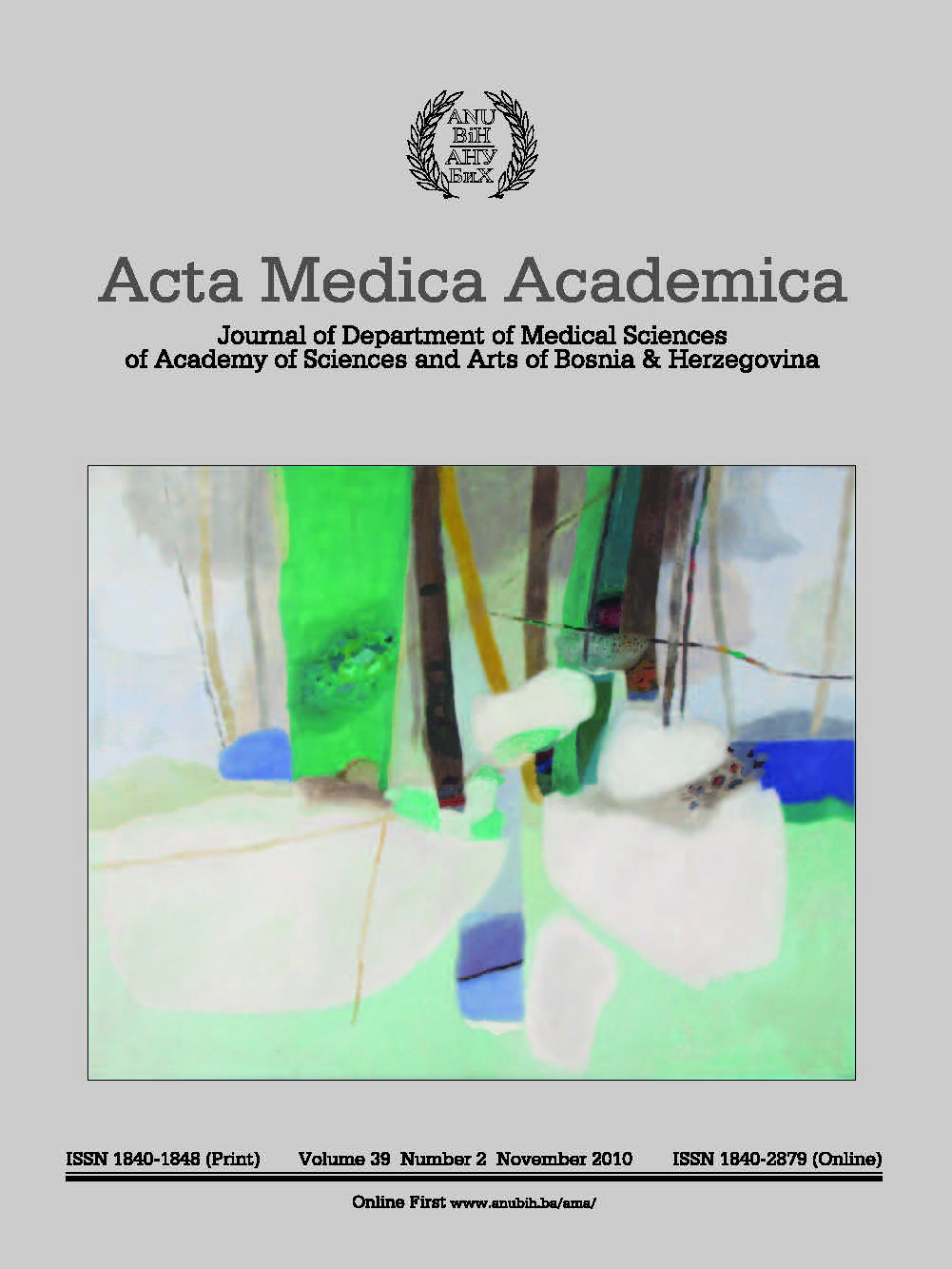 Downloads
How to Cite
Mujagić, S., Sarihodžić, S., Huseinagić, H., Bećirović–Ibrišević, J., & Ercegović, Z. (2010). Primary jugular foramen meningioma with unusual extensive bone destruction: case report and review of literature. Acta Medica Academica, 39(2), 199–204. Retrieved from https://www.ama.ba/index.php/ama/article/view/90